15 days & Dash is getting pretty comfy in his new home.
Had some issues with walks. Tried no leash & he sticks to me like glue...accidental correct answer, haha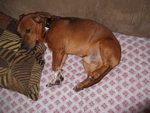 Left the room & returned...he's behaving well so far.
little dude loves the porch. On our way back from walks I can say "porch" and he's off like a rocket to the car seat. We usually spend a while setting there together each evening.
Found from the Vet he's actually at least two yrs old...par for the course with the shelter saying he's younger. ha...they said he was housebroke too....we've about got that nipped in the bud now: just had to keep an eye on him and change around his eating time a bit.